The awesome Chedisters…..and saying goodbye to Chedbob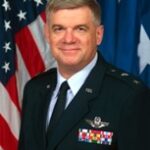 The  Fisher House at Eglin AFB, FL and its  local support organization Fisher House of the Emerald Coast (FHEC) lost a great friend recently with the sudden passing of Major General Robert W. "Chedbob" Chedister USAF-retired. Chedbob, as he was known to literally everyone, was the Program Executive Officer for Weapons and Commander of the Air Armament Center at Eglin in 2006 when he, after being inspired by his wife Trecia, started the wheels turning for Eglin to receive Fisher House #48. I well remember the dinner he set up with me and several other members of our local community at the Eglin Air Base Wing Commander's home where he and Trecia laid out their vision for the Eglin Fisher House, how it would complement the Eglin Hospital, and how it would support active duty, retired and family members while they sought medical care at the Eglin Hospital and in the local area. I had the honor of chairing the first FHEC board of directors and walked the property across from the Eglin Hospital with Chedbob and Fisher House Foundation CEO Dave Coker when they put a flag in the ground and said "We are building the Eglin Fisher House RIGHT HERE!"
After his retirement from the Air Force, Chedbob and Trecia remained huge supporters of FHEC with Trecia serving multiple terms on our board of directors over the years. Since opening in 2010, the Eglin Fisher House has assisted thousands. Chedbob served our nation by helping to protect it from our enemies and his legacy of service will live on thanks to his and Trecia's efforts to get #48 built and opened on Eglin AFB. He was a  great friend and he is deeply missed.
His obituary is here.  A celebration of life is scheduled for Friday, July 29.
Tony Hughes was the first President of the newly formed organization in 2007, serving for two years and remained on the board until 2014.  His involvement continues today as a Community Ambassador.
When the Chedisters relocated from Laurel Hill to South Carolina last year, Trec shared some index cards she developed during the planning phase and also a picture of the group meeting.  We are so honored to have this family a part of our early days to bring the Fisher House to the Eglin community.