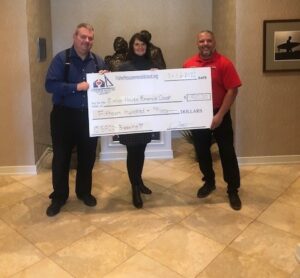 Wes and Jerry, representing CEFCO presented $1500 to our Fisher House this week in celebration of their new store. We love when new business comes to town and makes a splash with military blessing as soon as they are open!  Go visit and tell them it's because they love our military like we do.  #loveisgoodmedicine and #CEFCOGIVESBACK
More about the store:
FT. WALTON BEACH, FL (December 23, 2021) – CEFCO Convenience Stores announced the grand opening of its newest store featuring CEFCO Kitchen located at 325 Eglin Parkway N in Ft. Walton Beach, FL
Excited to open another CEFCO Kitchen in the portfolio, customers will be pleased to find a wide variety of hot and cold food items, including made-to-order burritos, tacos, and bowls, as well as hand-breaded chicken tenders, pizzas, breakfast sandwiches, and many other signature food offerings. This store will be open 24 hours a day.
Conveniently located on Eglin Parkway N, this location has 49 auto parking spaces and square footage of 6,054 square feet.
"We are excited to open another location with our newest store in Ft. Walton Beach, FL and we look forward to serving and partnering with the local community as we do in our other cities." said Rick Schneider, Regional Vice President of Operations.
CEFCO operates over 200 locations in 6 states.
MEDIA CONTACT
Samantha Newbold
Marketing Manager
254.791.0009
smiller@cefcostores.com