The 13th Annual Fisher House Helping Heroes Gala will be held October 22, 2020 at the Soundside Club at Hurlburt Field.  New location this year to allow for more guests – thanks to a sold out event for the past 4 years.  Sponsorships and ticket sales will be available March 1, click here.  Our home on Eglin will be 10 in 2020 and we will celebrate the Soaring Twenties as we approach a new decade of caring for our military families.  Be ONE of the 400 in the room.  Sell out risk high!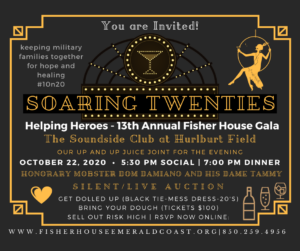 Be one of the 2020 Sponsors…….sponsorship flyer here. 
First in for 2020 – Lockheed Martin, thanks Monty.  Lockheed Martin goes SWANKY for our Fisher House on Eglin!

Hotsy Totsy – $10,000 | Swanky – $5,000 | Ritzy – $3,000 | Spiffy – $1,500 | Swell – $750
Individual Tickets – $100
Long term supporter Raytheon just signed on for SPIFFY.  21 tickets have sold and we have just began!
The 12th Annual Fisher House Gala was held October 17, 2019 at the Henderson Beach Resort and Spa with a sold out crowd of 340 attending.  Thanks to our generous community, we raised $72,938.  Photos of our fun evening can be found here. 
Featured speaker was Bobby Dove of Hooligan Charters, former Green Beret medic, assigned to the 7th SFG. Steve Ferrell of HDR Engineering provided the dinner entertainment and wrote a special song, that will soon become our theme song.  He went into the studio in December and this recording will be unveiled this year at our gala!    
Bucket list vacations will be announced soon.  Plan to come travel for a good cause with us October 22.
Ad sizes and sample (from last year) program information here.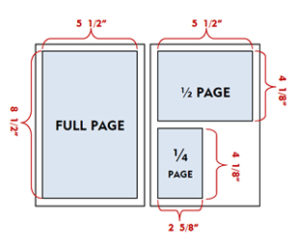 For questions about the event or the Fisher House, please contact:
Mia Hughes, Administrative Director
850-259-4956 or director@fisherhouseemeraldcoast.org
FLORIDA DEPARTMENT OF AGRICULTURE AND CONSUMER SERVICES, REGISTRATION CH23713.  "A COPY OF THE OFFICIAL REGISTRATION AND FINANCIAL INFORMATION MAY BE OBTAINED FROM THE DIVISION OF CONSUMER SERVICES BY CALLING TOLL-FREE WITHIN THE STATE, 1-800-435-7352, WWW.FLORIDACONSUMERHELP.COM.  REGISTRATION DOES NOT IMPLY ENDORSEMENT, APPROVAL, OR RECOMMENDATION BY THE STATE."