Meet the House Staff
Each day, families are welcomed into our Fisher House that these staff make into a home.
Robert Campbell, Fisher House Manager
Robert Campbell recently became the Fisher House Manager. Robert is retired after serving in the US Air Force for 23 years as a Services Specialist. Along with 30 plus years of hospitality experience that he brings to the Fisher House he is very passionate about making customers feel at home. His loves being able to interact with the guests and lend a listening ear.
Robert has 2 daughters and is blessed with 3 grandsons of which is a pair of twins. His three grandsons keep him very busy. He enjoys watching college football, especially his beloved Nebraska Cornhuskers.
Donnie Peckham is a Fisher House Assistant Manager
Donnie Peckham is the Fisher House Assistant Manager and has been in his position since the Eglin Fisher House opened in 2010. Donnie retired after serving in the US Air Force for 26 years as a Security Forces member for three years before cross training to become a Communications Cable Systems Specialist.  Donnie's passion for the Fisher House began when he stayed at a Fisher house in Landstuhl, Germany for three months.  Donnie loves making the guests feel at home with his humor which in turn allows the guest to take their minds off of what they're going through.
Donnie is married to his high school sweetheart, Jennifer, who he met while growing up in Robertsdale, AL. They are both avid Alabama Crimson Tide fans, churchgoers, and have six adult children.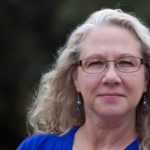 Judyann Schneider, Guest Services
Judyann Schneider, she serves as the Guest Services Representative. She has been with our Fisher House since 2016. Her favorite part of working at the Fisher House is meeting all the selfless people that serve our country.
Judyann is happily married to her husband Tom, and has five adult children that have blessed her with 7 grandchildren She loves caring for her pets, which include three dogs, three cats, and one bunny
It takes a village of support and caregivers internally and a kind, thoughtful generous team of volunteers, donors and medical personnel externally to complete this mission.  We are grateful for the hands and hearts who work, serve and make a difference in the lives of our military families.  Unsung heroes….
Chere' York, Guest Hospitality
Chere'  is responsible for ensuring guest rooms are ready for their stay, and the common areas of the house.  She fits right in with the team to create a great work family, doing what they all enjoy!  She has been married for 5 years to her husband Trevor York. They share two girls together, Coralyn age 8 and Hayden age 2. They live with 3 additional 4 legged companions.  Chere' and Trevor stay busy with the dogs, the kids, running a small family owned business called All Out Woodworks and working for the Air Force. In their spare time, Chere' and her husband love playing darts and taking trips local mud parks to occasionally to ride their ATV's