The Ruffner Family contribute $5,000 as a suite sponsor in honor of their son, Matt, Chief Warrant Officer 3.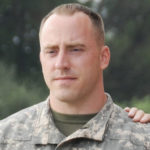 Chuck and Diane Ruffner have joined as a suite sponsor in memory of their son, Matt who was killed in action, April 9, 2013 while serving our country in the Pachir Wa Agam district, Afghanistan, when his AH-64 Apache helicopter crashed. Also killed was Army Chief Warrant Officer 2 Jarett M. Yoder, 26, of Mohnton, Pa.
Chief Warrant Officer 3 Matthew P. Ruffner
11-18-1978 4-09-2013
Many honors have been bestowed upon Matt, honoring his service and love of country and flying Apaches. A painting by military artist Larry Selman hangs at Fort Indiantown Gap in Annville, Pennsylvania honoring Matthew and his co-pilot CW2 Jarett Yoder on their final mission in Afghanistan.
He was awarded the Bronze Star (posthumously) for his actions of saving a ground unit that had come under fire, and was awarded the Aviation Mission Survivability Officer Award for 2013 by the AAAA for his life saving mission planning.
In Harrisburg, Pennsylvania a bridge has been named after Matt.
Matthew served a total of 16 years, the last 7 as an Apache Pilot and also as an instructor pilot. at the 1st Bn.,104th Avn. Regt., 28th CAB
He excelled at sports, was a talented guitarist and was a graduate of Indiana University Pennsylvania with a BA in Criminology. All gave some, some gave all.