Scholarships for Military Children, apply now through February
The Scholarships for Military Children Program, academic year 2021-2022, began accepting applications Dec. 14, and the deadline for submissions is Feb. 17.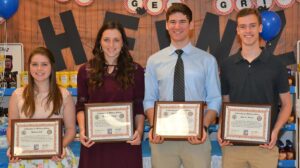 In existence for 21 years, the program recognizes the contributions of military families to the readiness of the fighting force and celebrates the commissary's role in enhancing military quality of life. Thus far, SMCP has awarded more than $20.1 million to 11,814 students, selected from a pool of nearly 105,000 applicants.
SMCP is administered by the Fisher House Foundation. Funding comes from commissary business partners and other earmarked contributions. Every dollar received is given out as a scholarship grant. Additionally, the foundation matches all donations, dollar for dollar, and does not charge for its services.
Read more here.