2021-02-16 20:31:40
Here is the latest newsletter:
Posted in:
Articles
Read more...
0 comments
---
2021-02-16 18:21:28
MIRAMAR BEACH, Fla. –February 9, 2021—The Emerald Coast's official Big Green Egg EggFest cooking competition, Eggs on the Beach, is returning to Seascape Resort in Miramar Beach on Oct. 16, 2021. Presented by Bay Breeze Patio, the family-friendly event celebrates the delicious results of cooking on the Big Green Egg while benefitting two local charities–the Fisher House of the Emerald Coast and Food for Thought. Cook teams will be smoking, grilling and baking their favorite dishes on the Big Green Egg while tasters sample the delicious bites and vote for their favorites.
The annual cooking competition unites cook teams, ranging from backyard grillers to local restaurants to local non-profit organizations. Cook teams prepare a variety of dishes from meats and seafood to veggies and desserts on the Big Green Egg in an effort to earn the "People's Choice" votes and a brand new large Big Green Egg.
New for the 2021 Eggs on the Beach cooking competition is the new enhanced location behind the Seascape Towne Center overlooking the pond and fountain. The new location will allow each cook team to have their own 10×10 tent, allowing for more prep space and social distancing. In addition, the tiki bar, public restrooms and access to Seascape Towne Center businesses will provide added convenience and enjoyment for cook teams and tasters.
"We're excited to see this event evolve," said Bay Breeze Patio co-owner and event co-founder Wayne Paul. "Bigger is not always better. After canceling the 2020 event, we're coming back better than ever. The new location at Seascape will allow us to hold a more intimate and customized experience. The best part is that Eggs on the Beach will once again support two incredible local non-profits that are serving needs in our community among students and active and retired military."
Non-profit teams will again have an opportunity to compete for cash prizes and proceeds from the event benefit The Fisher House of the Emerald Coast and Food for Thought. The Fisher House of the Emerald Coast provides a home away from home for military families during medical treatment, and Food for Thought is fighting hunger and food insecurity among area students by providing backpacks with healthy snacks for students in Walton and Okaloosa Counties.
The cooking competition will be enhanced by kid's activities, live music, and drawings for a chance to win a Mini-Max Big Green Egg and more. In addition, top ranked college football games will be aired
in the ENCO Sports Zone. Beverages including beer, wine, cocktails, water and sodas will be available for purchase.
For those who have thought of owning a Big Green Egg, Demo Eggs, which are used during the competition, are available for pre-sale at a discounted price. Demo Eggs are available in Large or XLarge and come with a nest (metal stand) and plate setter along with a limited lifetime warranty. Demo Eggs are used during the event and will be available for pick-up between 4 – 5 p.m. on October 16. Eggcessories, including temperature controls, baking stones, egg covers, and cooking utensils, will also be discounted during the event.
Save the date! Eggs on the Beach will take place from 10 a.m. – 1:30 p.m. on Saturday, October 16, 2021. Cook team registration will open in April. Taster tickets will be on sale soon. To learn more, visit www.EggsontheBeach.com.
###
Posted in:
Articles
Read more...
0 comments
---
2021-02-10 19:33:41
Destin Banner Art brings coastal flair to Main Street in Destin.  Our Community Ambassador, Kathryn Guidry of Valparaiso, was a featured artist and painted a sunset scene with a heron.  Many of you know Kathryn as our designer extraordinaire, contributing to all our creative projects throughout the year.  Kathryn was interviewed for the banner art, and courtesy of the Destin Log, an excerpt appears below.  Kathryn was joined in this effort with another incredible Fisher House supporter, Kathy Schumacher who donates highly sought after art each year at our Helping Heroes Gala.
"I did it because it kind of reflects the area and the colors were very vivid, so I thought it would make a perfect banner," Guidry said.
Although this is Guidry's first time to participate in the banner project, she's dabbled in all sorts of arts and crafts all her life.
"Growing up I had a father who was very artistic and talented … so I guess it kind of runs in the family," she said.
When her children went off to college, she had more time on her hands and took painting lessons.
Since then she has done artwork to raise money for such local organizations as the Panhandle Animal Welfare Society and Children in Crisis. She's also very involved with Fisher House.
Fisher House is located on Eglin Air Force Base and provides a "home away from home" so that military families can be together during treatment for serious illnesses.
More:2019 – Art banners installed on Main Street
"That's my big project," she said, noting that her husband is retired military.
Posted in:
Articles
Read more...
0 comments
---
2021-02-10 19:02:08
She first started her volunteering with us while in high school, raising money as part of the Miss Niceville High School pageant, donating $2100 as the Peoples Choice/Runner Up, she joined us as Dorothy with the Grand Boulevard Festival of Trees, we placed second, joined us for the Helping Heroes Gala, parents and sister in tow, and this past Christmas, she came home from college and hosted a fundraiser with her mom and friends, raising another $760 for our families. I love this girl and her heart for serving military and veteran families. HEY, she is part of a military family too and they raised her right. Kudos Pam and Pete! Lauren will also be coming home from school in April to volunteer at the Wine Festival. The sky is the limit!
Posted in:
Articles
Read more...
0 comments
---
2021-02-10 17:18:41
Connect with holistic practitioners, sports and strength training professionals, weight management, natural & non-invasive anti-aging treatments. Demonstrations, as well as more than $5,000 in raffle prizes and vendor giveaways. Here for more info.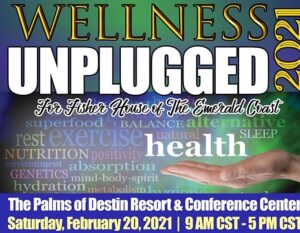 Posted in:
Articles
Read more...
0 comments
---