In observance of National Caregivers Day in February, meet Jennifer Nelson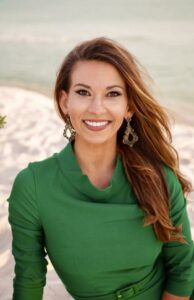 National Caregivers Day recognizes caregivers providing quality, compassionate care every day.  Observance began to honor dedicated health care professional providing a variety of services with long and demanding days, supporting to those who need it most.  What happens when you aren't a health care professional and are thrust into the role as a loved one due to military service?
Enter Jennifer Nelson who was recently named a Dole Caregiver Fellow.
Dole Caregiver Fellows are the heart and soul of the Elizabeth Dole Foundation. They are active military and veteran caregivers from across the nation who are carefully selected each year to represent the Foundation in a formal capacity. Each class has approximately 25-30 Fellows who serve two-year term before transitioning into the Alumni Association.
Fellows are leaders in their communities who share their caregiving stories to bring vital attention to the tremendous challenges caregivers face.
Why Jennifer?
Jennifer Nelson, military spouse of wounded warrior Capt. Nate Nelson, USAF, Ret. will share her perspective. Nate, who suffered a spinal cord injury from a rocket blast in Afghanistan when Jennifer was 6 months pregnant  has no movement below his chest and limited use of his hands. Today, Nate works in the office of local congressman Matt Gaetz. More about Nate can be found here.
To hear a snippet interview Jennifer did, click here.
In addition to our annual Gala scheduled October 22, we have added an opportunity on February 13th for our military rich community to hear from a family member the "why" we have Fisher Houses.  Jennifer will talk about the comfort what was provided, how it lightened her load and reduced her stress while we honor her in her role as a caregiver and in her words, a "battle-buddy" to Nate.  This event will take place at the Air Armament Museum with doors opening at 5:30, the program will begin at 7:00.
She will be joined on stage by Joe Markin, USAF retired, a three-time Command Chief Master Sergeant who presently works with Veterans United Home Loans and Geico for a conversational format.  While Joe's military service is impressive, he has recently become an international motivational speaker and will be at several military bases in Korea early March, inspiring our troops.  Serving as Master of Ceremonies will be the amazingly dynamic Neko Stubblefield, Public Relations Director for Eglin Federal Credit Union.  Our friends at One 20 A Modern Bistro are providing the heavy hors d'oeuvres for the evening and a cash bar will be available.  Local talent Chevon Corlew Coleman will sing the National Anthem and special music will be provided by British Invasion Band.
Proceeds of this event will benefit our Fisher House of the Emerald Coast, Inc as we continue keeping military families together during a medical event, for hope and healing.   Tickets and sponsorships are available here.