HarborWalk All American Thursdays celebrates Sue Nelson
Most days my job is cool.  And there are days when it is WAY cool because we get to honor heroes in our community who are givers…..meet Sue Nelson.  Her spouse Randy, AKA Pup, and Sue are some of our very first "honorary commander" friends from their active duty days at the 728th back in 2003.  They have remained in our close village and last Thursday, we surprised Sue by honoring her, both for active duty, retiring as a Lt Col, but also for her most important work with the Preservation of the Force and Family at AFSOC.  (Loving our military families like we do, kindred spirits.)
Sue will retire at the end of this month and we conspired with her family and work friends to get her to this event under the auspices of Nana Duty…..HA!  She was surprised, and so deserving.  Here's the write up from the evening….
Hero tonight is Sue Nelson, Lt Col, USAF retired
She is originally from Davenport, Iowa and currently lives in Valparaiso with her spouse Randy, whom she met in High School.  The Nelsons just celebrated 40 years of marriage, have two sons and 4 grandchildren.
Bachelors in Business from University of Iowa/1981.  Masters from Webster.
Throughout her military career, she served at Hahn Air Base Fed Republic of Germany, Randolph, Langley, Remote to Soto Cano AB Honduras, back to Maxwell, Camp Smith Hawaii PACOM Air Force Element Commander and her last active duty assignment included Hurlburt 1 SOW Mission Support Squadron Commander and Deputy Commander Mission Support Group
Sue was fast on her way to Colonel, consistently promoted below the zone when in 2003, Randy, also a Lt Col with the USAF was deployed to Baghdad.  They had two sons, one a senior in High School and the Nelson family needed her at home.  She left a job she loved for something she loved more, her family.
But she didn't stay at home, Sue continued to contribute to the defense of our country, and began working at Hurlburt Field.  When a special program was created to focus on mission readiness, longevity and HUMAN performance – AKA to embrace the belief that humans are more important than hardware, Sue joined this effort.  In 2015, Sue, serving as the Manpower, Personnel and Services Directorate for Preservation of the Force and Family,  was one of 14 rewarded with exemplary service.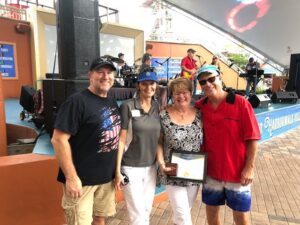 On July 30th, she will retire again from Hurlburt Field from this program that provides physical, spiritual, mental and social support inside of Special Operations, a job she loves for something she loves more, her new job as Silly Nana to her grandchildren.
She supports many local charities with time, talent and treasure including Shield of Faith, and Fisher House of the Emerald Coast.