2020-10-28 21:36:06
On behalf of Bear Bait Ultras, Dan Landrum presented proceeds from the SOLD OUT 2020 event held in January to the Eglin Fisher House.  As part of the planning, he also shared that the 2021 event would be relocating to a new venue, which would open up slots for even more enthusiastic runners.  Bear Bait Ultras have a long-standing relationship supporting our Fisher House and we look forward to this new location in Santa Rosa County at Adventures Unlimited.  Our treasurer, Jerry Williams, President/CEO of Eglin Federal Credit Union regularly runs this race and is training now for the new race!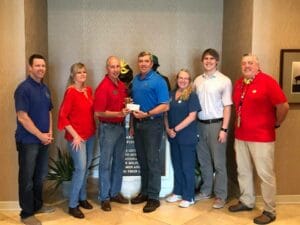 Posted in:
Event Photos
Read more...
0 comments
---
2020-10-28 21:23:33
Stu Jones, President and Founder of Florida Powerboat Foundation recently shared the happy news that proceeds from the Emerald Coast Powerboat Week, held August 13-15 would net a $2,000 donation to the local Fisher House at Eglin AFB.  This fun, well attended, annual poker run has blessed not only the Eglin Fisher House for the past three years, but also various other charities across the Emerald Coast.
P.S.  We love that Stu remembers the military and veteran families who stay with us each year, keeping them together for hope and healing because of folks like Stu and his powerboat friends.  Pictured are Mia Hughes, Executive Director, along with Jerry Williams, CEO/President of Eglin Federal Credit Union.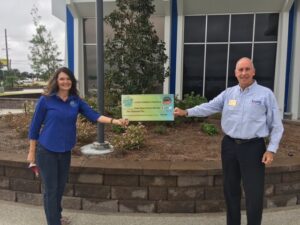 Posted in:
Event Photos
Read more...
0 comments
---
2020-10-05 14:10:25
Our friends at Mills Heating & Air blessed our Fisher House in a big way this past month. Jackson White, and his sons Chris and Marty phoned to say they would be donating……$50,000 to our local mission to bless military and veteran families. WOWZA…….If you need heating and air, give them your business. They say thank you for service and sacrifice in a very tangible way. Making sure there is comfort at our home on Eglin AFB during a medical event, warm and ready for them. Check out the images here.
Posted in:
Event Photos
Read more...
0 comments
---
2020-09-17 17:51:19
Local DefenseWerx upgrades from Bronze to Silver for this year's 2020 #carecontinues campaign.  We were hosted for a tour and learned more about their mission to support the Department of Defense.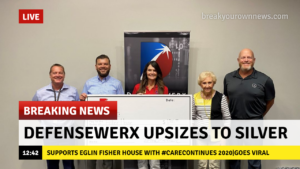 What are they?
Established in 2012 as a 501(c)(3) non-profit named in honor of James "Jimmy" Doolittle, commander of WWII's historic Doolittle Raid, The Doolittle Institute dba DEFENSEWERX (DWX) is headquartered in Niceville, Florida.  DWX has 5 innovation hubs located across the US.  Our current hubs include Doolittle Institute in Niceville, FL, SOFWERX in Tampa, FL, MGMWERX in Montgomery, AL and ERDCWERX in Vicksburg, MS.
Watch here for a VERY informative snipet on their mission.
Posted in:
Event Photos
Read more...
0 comments
---
2020-08-27 13:42:21
On this Thankful Thursday, we are practicing an attitude of gratitude for the many partners in the community who love our military like we do. Crane Aerospace and Electronics joined us last year at the Helping Heroes Gala, and after hearing our featured speaker Bobby Dove, they signed up BIGGER for 2020. They presented their BIG love offering this week. We love our Crane family who make the donation from their Crane Family Fund.  Learn more about Bobby here.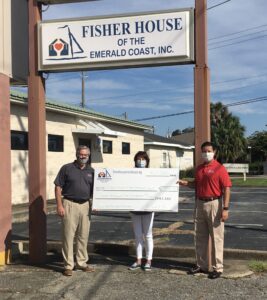 Posted in:
Event Photos
Read more...
0 comments
---