2019-12-05 20:05:45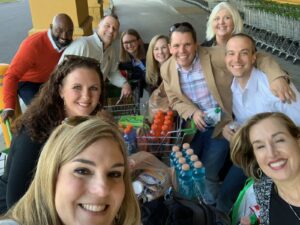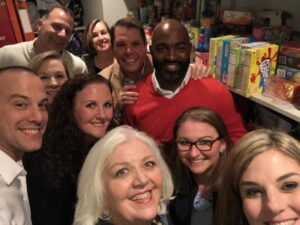 This group from Cox Communications is taking PACK the pantry to an all new level. Not only did they shop under a timeline and budget as part of their team building visit, they stacked their goodies into our pantry, organizing and streamlining, then packed themselves in for a famous COX selfie. We love them for blessing our house guests! ❤️
Posted in:
Event Photos
Read more...
0 comments
---
2019-11-22 16:44:32
Friends of Fisher House, John and Richard visited our Fisher House on Tuesday, donating $500 from Knights of Columbus Assembly 3236.  This organization, and these two big hearts are frequent givers to care for our military families during a medical need.  The Knights of Columbus is the world's largest Catholic, Family, Fraternal, Service organization.  Their guiding principles are Charity, Unity, Fraternity, and Patriotism and their rich history include many years of service to the local community, Catholic Church, families, and young people.  We love that they support two of our favorite things….families and patriotism.  #knightsofcolumbusdogood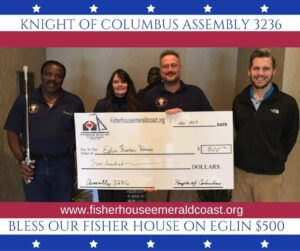 Posted in:
Event Photos
Read more...
0 comments
---
2019-10-24 14:44:44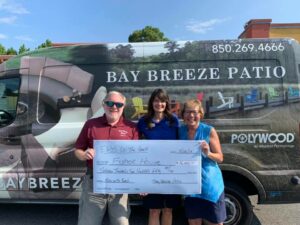 MIRAMAR BEACH — The sixth annual Eggs On the Beach cooking competition raised $40,000 for local nonprofit organizations, including its two nonprofit partners, Fisher House of the Emerald Coast and Food for Thought.
Held at Seascape Resort on Sept. 28, the family-friendly event welcomed more than 750 tasters and volunteers who sampled an array of delicacies cooked on Big Green Eggs by 25 cook teams.
Food for Thought and the Fisher House of the Emerald Coast each received a $16,250 donation from the 2019 EggFest.
"Our sixth annual event was a great success due to our amazing cook teams, volunteers and sponsors," said Bay Breeze Patio co-owner and event founder Susan Kiley. "We feel proud to have created one of the best food festivals in the area. It is humbling to see the community come together to support these great causes."
In the nonprofit category, South Walton Academy earned first place and a $3,500 donation. In second place, Sinfonia Gulf Coast earned a $2,500 donation toward its Youth Orchestra. The Rotary Club of Destin placed third and won a $1,500 donation.
Kevin Louthain, cooking for Westonwood Ranch's Bacon Nation, tends to his grill during the 6th annual Eggs on the Beach Eggfest held at Seascape Resort Saturday.
Tasters voted Saltwater Restaurant Group the winner of the Taster's Choice award. Scenic Sotheby's International Realty earned second place and Fort Walton Beach Medical Center's "Five Wild Blazing Medical Cooks," placed third.
Judge's Choice winners for 2019 were first place Saltwater Restaurants Inc., second place Setco Services in partnership with Jackacudas Seafood & Sushi, and third place Westonwood Ranch's Bacon Nation.
Honorary judges were chef Phil McDonald and Debbie Swenerton of Black Bear Bread Co., chef Nikhil Abuvala of Roux 30a and Jack McGuckin, executive chef Bijoux Destin.
The best booth display was presented to Saltwater Restaurants Inc.
Posted in:
Event Photos
Read more...
0 comments
---
2019-08-13 21:03:28
We love how our military families are raising their families to serve others. Met a nice little family today, who hosted an event to benefit our Fisher House on Eglin. They all serve, and sacrifice in defense of our nation and their daughter wanted the honor of writing the BIG check! #allinthefamily #keepingfamiliestogether
Posted in:
Event Photos
Read more...
0 comments
---
2019-08-13 21:01:23
What says Welcome better than something yummy for your tummy? We have created a new partnership for the Team Eglin Newcomers providing a "snack attack" for the break, courtesy of our friends at Eglin Federal Credit Union. We pitched the idea to help with some welcome food and they said Yes! Thanks Jerry Williams and team for loving our military like we do! #lovei
sgoodmedicine #foodisfuel
Posted in:
Event Photos
Read more...
0 comments
---