2020-10-05 14:10:25
Our friends at Mills Heating & Air blessed our Fisher House in a big way this past month. Jackson White, and his sons Chris and Marty phoned to say they would be donating……$50,000 to our local mission to bless military and veteran families. WOWZA…….If you need heating and air, give them your business. They say thank you for service and sacrifice in a very tangible way. Making sure there is comfort at our home on Eglin AFB during a medical event, warm and ready for them. Check out the images here.
Posted in:
Event Photos
Read more...
0 comments
---
2020-09-17 17:51:19
Local DefenseWerx upgrades from Bronze to Silver for this year's 2020 #carecontinues campaign.  We were hosted for a tour and learned more about their mission to support the Department of Defense.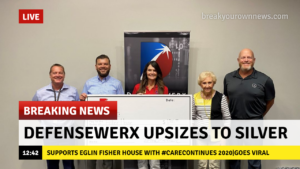 What are they?
Established in 2012 as a 501(c)(3) non-profit named in honor of James "Jimmy" Doolittle, commander of WWII's historic Doolittle Raid, The Doolittle Institute dba DEFENSEWERX (DWX) is headquartered in Niceville, Florida.  DWX has 5 innovation hubs located across the US.  Our current hubs include Doolittle Institute in Niceville, FL, SOFWERX in Tampa, FL, MGMWERX in Montgomery, AL and ERDCWERX in Vicksburg, MS.
Watch here for a VERY informative snipet on their mission.
Posted in:
Event Photos
Read more...
0 comments
---
2020-08-27 13:42:21
On this Thankful Thursday, we are practicing an attitude of gratitude for the many partners in the community who love our military like we do. Crane Aerospace and Electronics joined us last year at the Helping Heroes Gala, and after hearing our featured speaker Bobby Dove, they signed up BIGGER for 2020. They presented their BIG love offering this week. We love our Crane family who make the donation from their Crane Family Fund.  Learn more about Bobby here.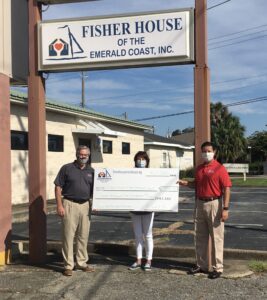 Posted in:
Event Photos
Read more...
0 comments
---
2019-12-05 20:05:45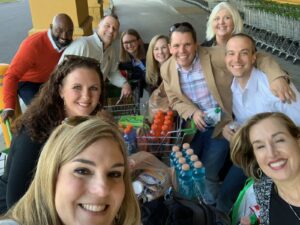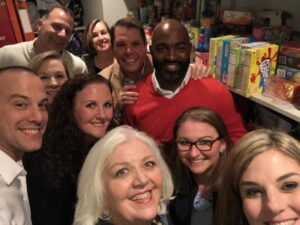 This group from Cox Communications is taking PACK the pantry to an all new level. Not only did they shop under a timeline and budget as part of their team building visit, they stacked their goodies into our pantry, organizing and streamlining, then packed themselves in for a famous COX selfie. We love them for blessing our house guests! ❤️
Posted in:
Event Photos
Read more...
0 comments
---
2019-11-22 16:44:32
Friends of Fisher House, John and Richard visited our Fisher House on Tuesday, donating $500 from Knights of Columbus Assembly 3236.  This organization, and these two big hearts are frequent givers to care for our military families during a medical need.  The Knights of Columbus is the world's largest Catholic, Family, Fraternal, Service organization.  Their guiding principles are Charity, Unity, Fraternity, and Patriotism and their rich history include many years of service to the local community, Catholic Church, families, and young people.  We love that they support two of our favorite things….families and patriotism.  #knightsofcolumbusdogood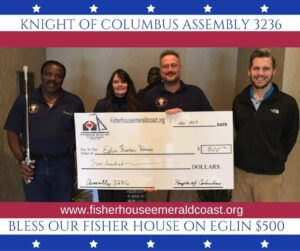 Posted in:
Event Photos
Read more...
0 comments
---