Emerald Coast Regional Mustang Club donates $1500 to Fisher House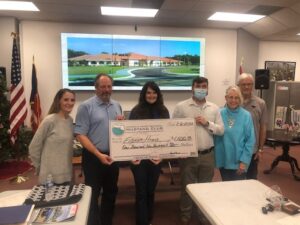 We were in the house with our Mustang owner friends last evening and received a (WOWZA) $1500 donation from the Emerald Coast Regional Mustang Club.
The club was created in 1987 by four local Mustang enthusiasts as an informal social group. The club has steadily grown over the years and was officially recognized and adopted as a regional group by the Mustang Club of America in 1995. All generations of Mustangs are represented in the club. Our members also cover several generations, yet share a common love for the Mustang car, it's enjoyment, preservation, and history.
The Emerald Coast Regional Mustang Club actively supports several charity organizations in the local area; sponsor an annual car show each year and participate in other local charity events as a means to collect funds for these causes.  They also participate in the Fat Tuesday parade with us at Baytowne Village  each year, sharing a few mustangs for the crowds to enjoy.
Monthly meetings are held on the first Thursday of each month. Social hour starts at 6PM and the meeting begins at 7 PM.