"My grandson and I enjoyed staying and playing at the Fisher House. Thank you so much for your caring and sharing. It made us feel so special. We really appreciate everything. God bless!" March 20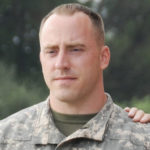 Chuck and Diane Ruffner have joined as a suite sponsor in memory of their son, Matt who was killed in action, April 9, 2013 while serving our country in the Pachir Wa Agam district, Afghanistan, when his AH-64 Apache helicopter crashed. Also killed was Army Chief Warrant Officer 2 Jarett M. Yoder, 26, of Mohnton, Pa.
Chief Warrant Officer 3 Matthew P. Ruffner
11-18-1978 4-09-2013
Many honors have been bestowed upon Matt, honoring his service and love of country and flying Apaches. A painting by military artist Larry Selman hangs at Fort Indiantown Gap in Annville, Pennsylvania honoring Matthew and his co-pilot CW2 Jarett Yoder on their final mission in Afghanistan.
He was awarded the Bronze Star (posthumously) for his actions of saving a ground unit that had come under fire, and was awarded the Aviation Mission Survivability Officer Award for 2013 by the AAAA for his life saving mission planning.
In Harrisburg, Pennsylvania a bridge has been named after Matt.
Matthew served a total of 16 years, the last 7 as an Apache Pilot and also as an instructor pilot. at the 1st Bn.,104th Avn. Regt., 28th CAB
He excelled at sports, was a talented guitarist and was a graduate of Indiana University Pennsylvania with a BA in Criminology. All gave some, some gave all.
My daughter and son-in-law had a scheduled C-section on Monday.  I wanted to be close and packed my bag with the thought that I would sleep in labor and delivery waiting room.  My son-in-law contacted the Fisher House and secured me a room and what a blessing the Fisher House has been.  It has been so convenient!  My oldest daughter and granddaughter came down from South Caroline and it was nice to bring my granddaughter over for a break.  We enjoyed the board games, corn hole and the library, snacked while playing.  The house is amazing, down to every detail!  I had the pleasure to spend time with the staff; Marc, Don and Judy were so welcoming!  This would be a wonderful place to volunteer or work!  Thanks again for helping me be comfortable welcoming my granddaughter!
"I am so grateful to be able to stay here.  My niece was injured really bad in a car accident and family needed to be here.  I jumped on a plane with no clue where I would sleep when I arrived.  God opened all doors and made a way, then Fisher House did the rest.  Thank you so much and may God bless you all."