Who we serve, as #CareContinues
The motto for our Fisher House at Eglin is "keeping families together" for hope and healing.  In this story, it could be said that we were "keeping families from sleeping in vans" when their babies both came early a few years apart.  Both babies are doing well and Mom and Dad were able to have peace of mind and a place to stay.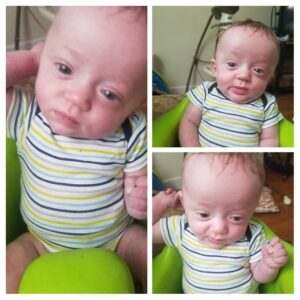 Hear in their own words through an email we received today.
(photo is from baby 1, Asher, born 2 1/2 years ago at 26 weeks)
"Hello Mia. I'm not sure you remember me, but about 2 1/2 years ago, my wife and I had a son born at 26 weeks at sacred heart in Pensacola. My wife almost passed away during that time, and you helped us out tremendously during that time.
Just recently, on 18 July, we had another preemie. He was alot further along, and was almost 7 lbs at birth. He only had to spend about 19 days in NICU. You helped us out again this time.
I wanted to reach out and personally thank you. I will be forever indebted to you for everything you've done for us. "Baby 2″ was discharged last night, and we checked out at sunup and are now back in Alabama. During his NICU stay, I had to leave and come home to graduate college. Without you, my wife would've been sleeping in a van in the hospital, as she was determined not to leave him.
Again, thank you so much for everything you've done for us. You truly are a guardian angel!!!!"