2020-01-10 17:51:31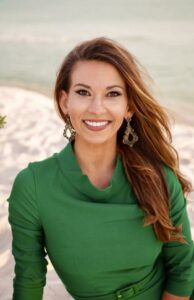 National Caregivers Day recognizes caregivers providing quality, compassionate care every day.  Observance began to honor dedicated health care professional providing a variety of services with long and demanding days, supporting to those who need it most.  What happens when you aren't a health care professional and are thrust into the role as a loved one due to military service?
Enter Jennifer Nelson who was recently named a Dole Caregiver Fellow.
Dole Caregiver Fellows are the heart and soul of the Elizabeth Dole Foundation. They are active military and veteran caregivers from across the nation who are carefully selected each year to represent the Foundation in a formal capacity. Each class has approximately 25-30 Fellows who serve two-year term before transitioning into the Alumni Association.
Fellows are leaders in their communities who share their caregiving stories to bring vital attention to the tremendous challenges caregivers face.
Why Jennifer?
Jennifer Nelson, military spouse of wounded warrior Capt. Nate Nelson, USAF, Ret. will share her perspective. Nate, who suffered a spinal cord injury from a rocket blast in Afghanistan when Jennifer was 6 months pregnant  has no movement below his chest and limited use of his hands. Today, Nate works in the office of local congressman Matt Gaetz. More about Nate can be found here.
To hear a snippet interview Jennifer did, click here.
In addition to our annual Gala scheduled October 22, we have added an opportunity on February 13th for our military rich community to hear from a family member the "why" we have Fisher Houses.  Jennifer will talk about the comfort what was provided, how it lightened her load and reduced her stress while we honor her in her role as a caregiver and in her words, a "battle-buddy" to Nate.  This event will take place at the Air Armament Museum with doors opening at 5:30, the program will begin at 7:00.
She will be joined on stage by Joe Markin, USAF retired, a three-time Command Chief Master Sergeant who presently works with Veterans United Home Loans and Geico for a conversational format.  While Joe's military service is impressive, he has recently become an international motivational speaker and will be at several military bases in Korea early March, inspiring our troops.  Serving as Master of Ceremonies will be the amazingly dynamic Neko Stubblefield, Public Relations Director for Eglin Federal Credit Union.  Our friends at One 20 A Modern Bistro are providing the heavy hors d'oeuvres for the evening and a cash bar will be available.  Local talent Chevon Corlew Coleman will sing the National Anthem and special music will be provided by British Invasion Band.
Proceeds of this event will benefit our Fisher House of the Emerald Coast, Inc as we continue keeping military families together during a medical event, for hope and healing.   Tickets and sponsorships are available here.
Posted in:
Articles
Read more...
0 comments
---
2020-01-07 14:45:28
Happy Tuesday! As part of my personal membership with DAR and in conjunction with our primary mission to support our military and their families, we just dropped snacks at the VA Outpatient Clinic that sits outside the Eglin AFB gate. Helpful people walking in lended a hand to carry and we were received by very grateful volunteers. Pick a project in 2020 and do something to bless others. #helpingothershealsyoutoo
Posted in:
Articles
Read more...
0 comments
---
2020-01-06 15:26:19
Articles
Read more...
0 comments
---
2019-12-30 15:09:25
All in the family, #familiesblessingfamilies – commemorative donations made in memory or to honor a loved one are a great way to pay it forward for Fisher House families. Here's a dad receiving his Fisher House bling basket and the note acknowledging the gift made to US from his daughter. She was honoring her dad, uncle and grandfather. Her dad got a cool mug, a warm stadium blankie, and confirmation he had raised her right. #loveisgoodmedicine still time to do your own paying it forward into 2020 today and tomorrow. . https://fisherhouseemeraldcoast.org/donate/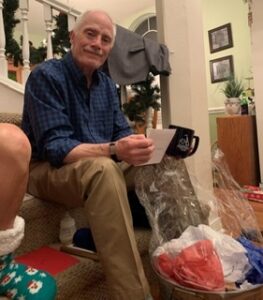 Posted in:
Articles
Read more...
0 comments
---
2019-12-16 16:07:05
Cleaning up some paper records and I find this little publication called Within These Walls.  This document precedes me here at Fisher House of the Emerald Coast and it is a compilation of letters written by Fisher House guests across the network.  In this season of giving, and loving, it's so appropriate.  The first page has a poem written by a Fisher House volunteer.  I am intrigued and learn it was set to music…..found it today on the foundation's website.  Sharing today…..https://youtu.be/ehdnwR2NEqs
Be on the lookout for our own composition, written by Steve Ferrell for our 12th Annual Helping Heroes Gala.  Stay tuned……
Posted in:
Articles
Read more...
0 comments
---