Introducing Gordy Fornell, Board of Directors Vice President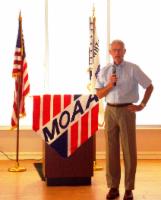 Lieutenant General Fornell, USAF, (Ret) retired from active duty in the USAF in 1993 with over 35 years of service. He served in senior acquisition leadership positions in AF Systems Command and AF Materiel Command. The general is a command pilot with more than 7,000 flying hours in more than 40 types of aircraft.  His military decorations and awards include the Defense Distinguished Service Medal, Distinguished Service Medal Legion of Merit with oak leaf cluster, Distinguished Flying Cross with two oak leaf clusters, Meritorious Service Medal with oak leaf cluster, Air Medal with 11 oak leaf clusters and Air Force Commendation Medal.  He also wears the Basic Parachutist Badge and the Missile Crew Member Badge.
He has been a private consultant since retiring and lives in Niceville, FL. He is also a member of the Defense Support Initiative of the Okaloosa County Economic Development Council, Chairman of the Air Force Armament Museum Foundation, member of both the Niceville Chamber of Commerce and Emerald Coast Military Affairs Committee, and member of the Mid-Bay Bridge Authority. He is a graduate of the AF Test Pilot School, holds an MBA from the Wharton School and an engineering degree from Michigan State University.