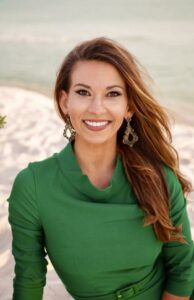 In addition to our annual Gala scheduled October 22, we have added an opportunity February 13 for our military rich community to hear from a family member the "why" we have Fisher Houses and the comfort it provides during a medical event.
Jennifer, military spouse of wounded warrior Capt. Nate Nelson, USAF, Ret. will share her perspective. Nate, who suffered a spinal cord injury from a rocket blast in Afghanistan when Jennifer was 6 months pregnant, has no movement below his chest and limited use of his hands. Today, Nate works in the office of local congressman Matt Gaetz.
She will be joined on stage by Joe Markin, USAF retired, a three-time Command Chief Master Sergeant who presently works with Veterans United Home Loans and Geico for a conversational format. While Joe's military service is impressive, he has recently become an international motivational speaker and will be at several military bases in Korea early March, inspiring our troops. Serving as Master of Ceremonies will be the amazingly dynamic Neko Stubblefield, Public Relations Director for Eglin Federal Credit Union. Our friends at One 20 A Modern Bistro are providing the heavy hors d'oeuvres for the evening and a cash bar will be available. Local talent Chevon Corlew Coleman will sing the National Anthem and special music will be provided by British Invasion Band. Proceeds of this event will benefit our Fisher House of the Emerald Coast, Inc as we continue keeping military families together during a medical event, for hope and healing.
Here a snippet of an interview with Jennifer here.  More about Nate here.  
Sponsorship opportunities are available at the following levels.  A flyer is also provided here. Teammate Promo Flyer 1-9-2020
Welcome Dynamic Software Solutions as a Bronze Sponsor and special thanks to the White-Wilson Community Foundation for offering 50 tickets complimentary to our caregivers to join us for free on them.  To request tickets, click here.
Gold – $2,500 and includes VIP seating for 10, 5 autographed books, all Silver Perks PLUS a 5 minute informercial night of the event and 2 bonus tickets to our 13th Annual Fisher House Gala scheduled for October 22.
Silver – $1,000 and includes VIP seating for 6, 3 autographed books, all Bronze Perks PLUS name/logo in annual coloring book celebrating month of the military child in April
Bronze – $500 and includes VIP seating for 4, 2 autographed books, name/logo on event signage/program, name/logo listed on newsletter post event and name on website event page for one month.
Individual tickets are $60 and can be purchased here.