Great fun was had at last year's 31st annual Sandestin Wine Festival – results of this 4 day event, hosted 4,560 in attendance, by 395 volunteers who worked 1,538 hours of service, raising $32,960 for Fisher House.  Keith Brown and Lelelia Hsia led this effort with several hundred big hearts.  To sign up for 2018, click here.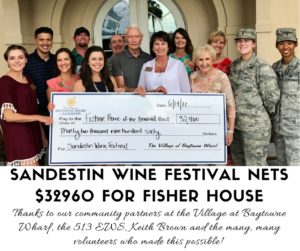 In 2016, our friends at Baytowne Wharf Neighborhood Association presented us a check for $25,000, representing 225 volunteers who contributed 1,097 to the success of this event.  Special thanks to Keith Brown, our community ambassador who led the volunteer effort.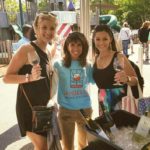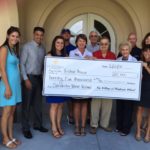 Fun + Funds for your favorite charity is a win-win! 
There are various times and positions available for individuals interested in volunteering for the Grand Wine Tasting event. Volunteer shifts are for 3-6 hours and positions include, but are not limited to: set-up, will-call, checking ID's, program distribution, retail tent, handing out wine glasses, pouring, breakdown and more.  As part of your volunteer service, complimentary tickets to the Festival for the day you are not volunteering will be available.   Register early to reserve your ticket.  Saturday pouring shifts will be filled first due to the event attendance on Saturday – remember it's our goal to provide a quality experience to the festival goers!
Important Information for Volunteers:
To volunteer electronically, please click here.
Volunteers are not allowed to drink before OR during their Volunteer shift as a professional courtesy.  Please do not wear your souvenir t-shirt when you are enjoying the festival on your own time.
Volunteers are assigned on a first-come, first-served basis and Saturday pouring shifts will be filled ahead of Friday pouring shifts.  The earlier your information is received, the more successful this event on behalf of our Fisher House!  Shifts will be finalized early in April and confirmations of registration will be sent at that time.
297 happy, helpful volunteers are needed to make this event a success on behalf of the Sandestin Wine Festival . Let's make them proud!  We are always looking for new volunteers. Pass this information along to your friends and bring them.  Did we say it is FUN?
Please watch the required video to ensure we are keeping it safe and legal on behalf of our community partner.  Training guide is here.
Please complete the responsible vendor form on the last page of the training guide and mail to director@fisherhouseemeraldcoast.org.