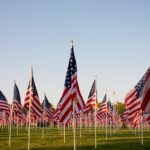 The Exchange Club of Niceville hosts the Field of Valor each year to honor the fallen heroes from Florida since September 11, 2001 serving in Afghanistan or Iraq. Never forget those fallen heroes who've served in Iraq and Afghanistan paying the ultimate price protecting our freedom and way of life. 348 large American flags, posted atop 8 ft. poles, will be displayed in perfect rows and columns in the grassy field at the north end of the Mullet Festival grounds in Niceville Florida. Each flag bears the name of the serviceman or woman who gave their life in the current conflicts in Afghanistan and Iraq. Donations will go to help the Niceville Exchange Club and the Fisher House Foundation provide service to the community.  To view last year's event, click here.
---
To Sponsor a flag:
Each flag measures 3 feet by 5 feet and all will be flown for the duration of the event to honor one fallen patriot from Florida who gave their all in defense of our Nation.  Sponsors who wish to keep their flag(s) may pick up at the site from 2 – 4:00 p.m. on 9/16/2017.  Donate online, or by check to Niceville Exchange Club, P.O. Box 342, Niceville, FL  32588.
If mailing, please print and fill out the form located here.
---
To Volunteer:
Volunteers are needed September 8 through September 16 to help set up, break down and staff the informational tables.  2 hour shifts available, please register here.
---
Visit:
This week long event is free and open to the public.  For days and times, nicevilleexchange.club/fieldofvalor2017.  You may also call the help line at 850.678.6880 or by email nicevilleexchange@gmail.com.
FLORIDA DEPARTMENT OF AGRICULTURE AND CONSUMER SERVICES, REGISTRATION CH23713. "A COPY OF THE OFFICIAL REGISTRATION AND FINANCIAL INFORMATION MAY BE OBTAINED FROM THE DIVISION OF CONSUMER SERVICES BY CALLING TOLL-FREE WITHIN THE STATE, 1-800-435-7352, WWW.FLORIDACONSUMERHELP.COM. REGISTRATION DOES NOT IMPLY ENDORSEMENT, APPROVAL, OR RECOMMENDATION BY THE STATE."