2017-01-13 19:31:34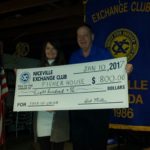 Thanks once again for the Exchange Club of Niceville hosting the 3rd Annual Field of Valor to honor our fallen. Proceeds from this event benefited our Fisher House on Eglin AFB to bless military families during a medical event. 4th Annual Field of Valor is on the calendar, September 9 – 18, 2017 – plan to attend. Seeing the flags waving in the field is a somber reminder that freedom isn't free. Thank a veteran and their family.  Thanks Paul McShane for your leadership.
Posted in:
Event Photos
Read more...
0 comments
---
2017-01-12 22:55:14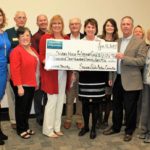 Grateful for the Niceville Valparaiso Chamber of Commerce for their support of Fisher House – Sequins and Suits produced $1575 for our mission. Thanks to volunteers, Donna Chesher, Michele Green, and David and Diane Walbeck. Board members Jim Yurack, Gordy Fornell, Shirley Pigott and Teresa Halverson are pictured here with our friends from the chamber, along with Mia Hughes, Administrative Director.
Posted in:
Event Photos
Read more...
0 comments
---
2017-01-09 18:36:41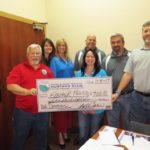 Community Ambassadors David and Diane Walbeck and Sheila and Wayne Williams, along with Administrative Director Mia Hughes received $700 from the Emerald Coast Regional Mustang Club last Thursday evening.
The Emerald Coast Regional Mustang Club was created in 1987 by four local Mustang enthusiasts as an informal social group. The club has steadily grown over the years and was officially recognized and adopted as a regional group by the Mustang Club of America in 1995. All generations of Mustangs are represented in the club. Our members also cover several generations, yet share a common love for the Mustang car, it's enjoyment, preservation, and history.
The Emerald Coast Regional Mustang Club actively supports several charity organizations in the local area; sponsor an annual car show each year and participate in other local charity events as a means to collect funds for these causes.
Monthly meetings are held on the first Thursday of each month at The Golden Corral in Fort Walton Beach. Social hour starts at 6PM and the meeting begins at 7 PM.We hold regular (at least once per month) "Social Gatherings and/or Fun Runs" to area attractions.
Posted in:
Event Photos
Read more...
0 comments
---
2017-01-09 18:29:31
Kathy Schumacher, gifted artist of Schumacher Fine Art, recently presented a $1,240 donation to Fisher House of the Coast, Inc. from her Paint the Coast instructional class held September 29 at Superior Residences in Niceville, co-host along with The Manor at Blue Water Bay.  Paint the Coast was founded by award winning palette knife artist, Kathy Schumacher. Kathy felt a desire to share her love of art with others by creating compositions that even beginning painters can create successfully. Her gallery can be viewed at www.schumacherfineart.com.
The check was presented to Administrative Director, Mia Hughes. Paint the Coast is a creative business specializing in teaching beginning artists basic painting techniques in a casual, relaxed environment. Students are provided all supplies and will finish their masterpiece in one 2-3 hour session. Students need only to show up with a smile and wearing clothes that are worthy of getting dirty.
Currently, classes are being held at The Pancakery in Destin, Florida at Café Liquid in Niceville, FL and at the American Legion Post 75 in Crestview Florida. Private parties are available upon request.
Posted in:
Event Photos
Read more...
0 comments
---
2016-12-09 18:05:18
Posted in:
Event Photos
Read more...
0 comments
---